Experience Aliwal Shoal & ScubaXcursion
Registered SSI Instructor Training Centre
This program gives you the skills and experience required to safely lead groups of certified divers, and is the first step towards an exciting career as an SSI Dive Professional without requiring you to complete an instructor program. Professional Dive Guides can work for SSI Dive Centers, guiding dives in a variety of environments and conditions. You will earn the SSI Dive Guide certification after completing this program.
Certification Prerequisites
Pool/Confined Water Sessions
Advanced Adventurer,
Diver Stress & Rescue certification,
40 logged Dives,
Certification or equivalent experience: Navigation, Night & Limited Visibility, Deep Diving
10 (If course is started with 40 Logged dives)
An SSI Dive Guide will earn the Professional Dive Master Status after completing the SSI Science of diving Speiality Program
Certification Prerequisites
This program provides the skills, concepts, and teaching experience required to become an effective SSI Assistant Instructor/Dive Control Specialist. You will learn the SSI Teaching System and philosophy, how to assist with Open Water Diver programs, and how to independently teach a variety of SSI training programs. Candidates who complete this program earn the SSI Assistant Instructor/Dive Control Specialist certification.
Certification Prerequisites
Divemaster. 60 logged dives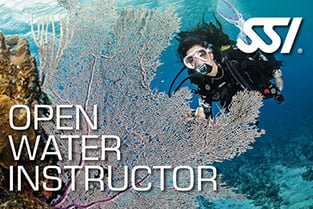 This program provides candidates with the knowledge, concepts and training necessary to organize and conduct entry-level scuba training courses. Candidates will learn the SSI Teaching System and philosophy, and how to effectively teach and evaluate Open Water Diver students. It will also prepare the candidate for their Instructor Evaluation. Candidates who complete this program and the Instructor Evaluation earn the SSI Open Water Instructor certification.
Certification Prerequisites
Dive Control Specialist/Assistant Instructor
75 logged open water dives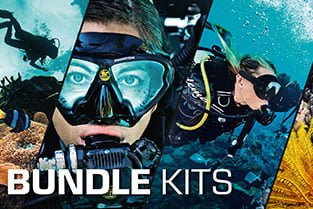 SSI instructors have the option to order Specialty Instructor Digital Kits in a package of 5
Certification Prerequisites
Open Water Instructor certification
SSI Dive Professional Levels of Recognition
SSI is the only agency that recognizes our dive professionals for reaching targeted milestones. This is an opportunity to commemorate your hard-won accomplishments and show the world you are one of diving's elite dive professionals.
To achieve higher levels, set goals and work towards them as you better your career. Train students and take additional training to achieve higher instructor levels. The sum of personal qualification levels, training experience, and years of being a professional in the industry determine your personal level.
Each time you reach a new level in training, you are automatically rewarded with an upgraded recognition card. These cards symbolize excellence, commitment and loyalty in diving. The more courses you lead and divers you train, the higher levels of recognition – Century-, Gold 500-, Platinum 1000- and Platinum Pro 5000 Instructor. Any SSI Dive Professional is entitled to take part in the recognition program. All you have to do is to get out there and train to get the credit you deserve!